Delightful gîtes ***** in Périgord Noir
CHANTEGREL
Chantegrel can accommodate 8/9 people
and has 200m² of living space.

Delightful gîtes ***** in Périgord Noir
CHANTEGREL
The Chantegrel gîte has 200m² of accommodation for up to 9 people. There are 4 bedrooms, and 2 bathrooms. Fully and luxuriously equipped with, canopied beds, a fireplace in the salon, cherry-wood kitchen-fittings, enamel tiling, and Tudor-style tower, it is a home that will impress you. Let yourself be seduced by the panoramic views from the terrace.
O

n the ground-floor:
A living-room, with ancient fireplace, and with direct access on to a large terrace, looking out on the surrounding hills. The living-room leads into the dining-room through a large stone arch
The dining-room, full of light thanks to a south-facing bay window, incorporates an open kitchen in solid cherrywood. The kitchen, with work-surface and sink in Verona marble, is fully equipped – including five gas-rings, fan-driven oven and fridge-freezer.
The Lavender-Blue bedroom, with large double-bed and baldaquin; private living-room in the tower, opening on to the terrace; and small bathroom with shower and WC.
First floor

The Red bedroom, with large double-bed, mullioned window through which to watch the setting sun, and bathroom with WC.
The Violin bedroom, with large double-bed and baldaquin, private living-room in the tower (with lovely views all round), and bathroom with WC
The Orange bedroom,with two single beds (and possibility of a third), and small bathroom with shower and WC
2 bathrooms, 2 shower rooms, 4 toilets, all enamel tiled in sparkling colours , matching the colours of the bedrooms.
The charges are per week
(During the periods shown and include the local taxes. Sheets and linen are supplied.

Rates
Chantegrel
From February 1st to July 14 2018

900 €

From July 15 to August 18 2018

2100 €

From August 19 to January 5 2019

1100 €

BIO breakfast In sup: 10€ / pers (on request)
The bedroom furniture, cupboards, tables, and so on, are antique; the bedspreads and curtains are in Italian colours.
Also available: garden furniture (in teak); chaises longues; barbecue; sun beds. (No television.).


Far better than a swimming pool! A small lake with clear water, in which to bathe.
SWIMMING FACILITIES
Imagine: a lake of 250m², with a small waterfall, the gentle slope that makes access pleasant for young children to bathe, together with diving from natural rock into water 3 meters deep. Also a 250m² beach of small pebbles, and a sand-pit. For the safety of children, the lake is protected by fencing.
The water is constantly refreshed and recycled from a second pond created specially for the purpose. To conform with our bio-ecological principles, and for your greater pleasure, the water is pure and without chlorine!

Shared by the gîtes, Chantegrel, Le Cèdre and Ermitage of the Domaine du Fraysse.

Discover this wonderful, unspoilt location for yourself,
equal to the best ecological standards of the Bio-Hotels,
and conforming to the standards of, 'High Quality Environment.' (HQE).
The Domaine du Fraysse is set in the woodland environment of St-Cybranet, and is ideally located near to the, 'not-to-be-missed sites' of Périgord Noir.
Close to the gîtes Chantegrel and L'Ermitage, you will find:
The Périgord Noir, gastronomy, medieval châteaux, Castelnaud (4 km), Beynac (6 km), La Roque-Gageac (6 km). Monpazier, Sarlat. Prehistoric sites in the Vézère valley, Montignac-Lascaux, Les Eyzies. Canoë on Dordogne or Vézère valley…
A beautiful ballroom of 100 m², with tisanerie and toilets fitted out in a old cowshed. This room is proposed rented in the day for 550 €, 1000 € for 2 consecutive days.
Failed week on request, for the use of the tenants.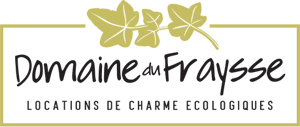 Whereabouts
GPS address :
Latitude : 44° N 47' 4.186'
Longitude : 1° E 9' 46.343'
Domaine du Fraysse
24250 ST-CYBRANET
FRANCE
Tél. : +33 (0)6 08 71 64 23
contact@domainedufraysse.com
Delightful gîtes ***** in Périgord Noir